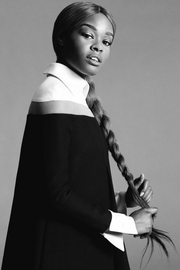 Azealia Banks is an American rapper, singer & actress. Her discography consists of one studio album, two extended plays (EP), three mixtapes, nineteen singles & more than 20 videos.
In 2009, Azealia released several songs on her MySpace for free download, including "Gimme a Chance" & "Seventeen", under the moniker Miss Bank$.
In September 2011, Azealia self-released her debut single "212 (feat. Lazy Jay)", which charted in Australia, Ireland & also in the UK, where it was certified Platinum. In May 2012, she released her debut EP, titled 1991, which received favorable reviews from music critics & was certified Gold in Australia. It was further promoted by the single "Liquorice" & videos were released for all 4 tracks.
Azealia self-released a free mixtape titled Fantasea in July 2012. It garnered highly positive reviews from music critics. Several songs were released to promote the mixtape, including "Jumanji", "Aquababe", "Nathan (feat. Styles P)" & "Neptune (feat. Shystie)". She also released music videos for "Luxury" & "Atlantis" on September 27 & November 11, 2012, respectively.
In November 2014, Azealia released her debut studio album Broke With Expensive Taste after multiple delays, mostly due to conflicts with her previous record labels. The album received positive feedback from critics & peaked at number 30 on the US Billboard 200. The album was preceded by four singles/videos : "Yung Rapunxel", "Heavy Metal & Reflective", "Chasing Time" & "Ice Princess".
In March 2016, Azealia released her second mixtape, Slay-Z. The mixtape was preceded by the single "The Big Big Beat". It was later re-released, with a bonus track/promotional single, "Crown".
In December 2018, Azealia released her second EP/first holiday project Icy Colors Change.
In September 2019, Azealia released her third mixtape, Yung Rapunxel, Pt. II, via her SoundCloud as a free download, but it was noted that the album was still unmastered. The day of the mixtape's release, Banks confirmed that the album would be released, properly mixed & mastered.
As of 2019, Banks is currently working on a sequel to her 2012 mixtape, titled Fantasea II: The Second Wave & a second album titled Business & Pleasure. Many tracks have been released so far ("Along The Coast", "Anna Wintour", "Chi Chi", "Count Countessa", "Escapades", "Movin' On Up", "Playhouse", "Pyrex Princess", "Treasure Island"...) but it still hasn't been confirmed they will be part of these projects.
Albums

[

]
Studio albums  

[

]
EPs

[

]
Cover artwork 
Title
Album details

                      1991                        

Release: May 28, 2012
Label: Interscope, Polydor
Format: CD, digital download    

Icy Colors Change

Release: Dec 20, 2018
Label: eOne
Mixtapes

[

]
Cover artwork 
Title
Album details

                     Fantasea                     

Release: July 11, 2012
Label: Self-released
Format: digital download

Slay-Z

Release: March 24, 2016
Label: self-released
Format: digital download
​Singles & Videos

[

]
​​​​​​