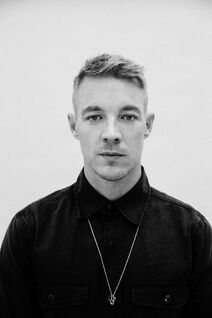 Thomas Wesley Pentz (born November 10, 1978), better known by his stage name Diplo, is a Philadelphia-based American DJ, music producer, rapper, and songwriter. He founded and manages record company Mad Decent, as well as the not for profit organization Heaps Decent. Among other jobs, he has worked as a school teacher in Philadelphia.
During his rise to notability, Diplo worked with British musician M.I.A., an artist who is credited with helping expose him in his early career. Later, he and fellow M.I.A. producer Switch created a Jamaican dancehall project titled Major Lazer. Since then, Diplo has worked on production and mixtape projects with many other notable pop artists, such as Beyonce, No Doubt and Usher. His alias, short for Diplodocus, derives from his childhood fascination with dinosaurs
Work with Azealia Banks
[
]
He also makes a cameo appearance in Azealia's "No Problems" music video.